Company Profile
Best Services has been a leader in the field of IT office products with an excellent after sales service for over 25 years. We are authorised dealers & distributors for Canon India.  We have major clients all over Goa which are in the hospitality, corporate, individual, institutional and the government sector. We are located in the North and South of Goa, with our offices in Panjim being the head of operations, and have over 25+ skilled employees helping develop our business.
A few years ago, We began a new chapter for our company. Introducing our Audio Visual division for lifestyle and professional audio and video solutions, and have developed a dedicated showroom for the Audio division. Complete with sound proof and acoustically treated demo rooms and separate sections for lifestyle and pro-audio and have tied up with various companies (over 30 brands) including Bose, Yamaha, JBL, Epson, Harman, Canon, Marantz, Audio Technica, Q Acoustics, AKG, Pope, Sennheiser, Logic, and many more .  We also deal with Projectors, Screens and other visual accessories.
Having started recently, we at Best services audio already have numerous completed installations, both on a small and large scale.  We cater to all types of clients and sell everything from bluetooth speakers to professional PA speakers to Dolby Atmos systems. Specially designing AV for Home theatres, AV Halls, Conference rooms, Restaurant setups, Resorts, educational institutes etc. Possessing a fair amount of experience , We are proud to have some of the biggest names in the industry as our clients, providing them with exemplary service
We are forever expanding our businesses and our reach, providing services in various sectors of the industry.
We put our customers at the centre of what we do. We value, challenge and reward people. We drive excellence.
For further queries, kindly feel free to contact us at 9588442913. 
We are looking forward to working with you. Awaiting your earliest reply.

TOP CUSTOMERS *
Pride Group – Mega Conference setup
Grand Hyatt – AV installation
Alila Diwa Goa – Multiple Audio installations
Paul John Distilleries – AV centre, Conference room,  PA Audio systems
ISL undisclosed Team – AV systems
Cohiba – PA setup
Sharada Mandir School Kadamba – Audio system
Resort Rio – Lighting and Audio PA Speakers
Salgaocar Villas – Complete Audio Installation, Dolby Atmos Theatre
Avataara Resort – Premium Loudspeakers
Sweet Nation – Audio & PA System
Ritesh Shah (Writer/Actor) – Home theatre system
Indian Navy ,INS – PA & Broadcasting systems, Conference Audio systems
Polytechnic Althino – AV / Conference Hall sound
Dukle Residency – Complete Audio Setup, Dolby Home Theatre
Serendipity Arts Festival – Diversified Audio setups
Awadh House – Complete Audio Installation
Syngenta – Conference setup
BITS Goa – Audio Recording setup
Lotus Industries – Complete Audio Installation. Conference room, Bar A\V setup.
Piggys Hostel – Audio Systems
Blue Tokai – PA setup
Obrigado Goa – BGM System and PA speakers
Upstair pub – Audio System
 Space observatory centre – AV setup
MineScape – Interactive Conference rooms,  Audio integration
Naan Bhai, panaji & margao – BGM Music system
Zantye College – PA Systems
Rosary High School – AV Hall, PA setup
  Many many more ….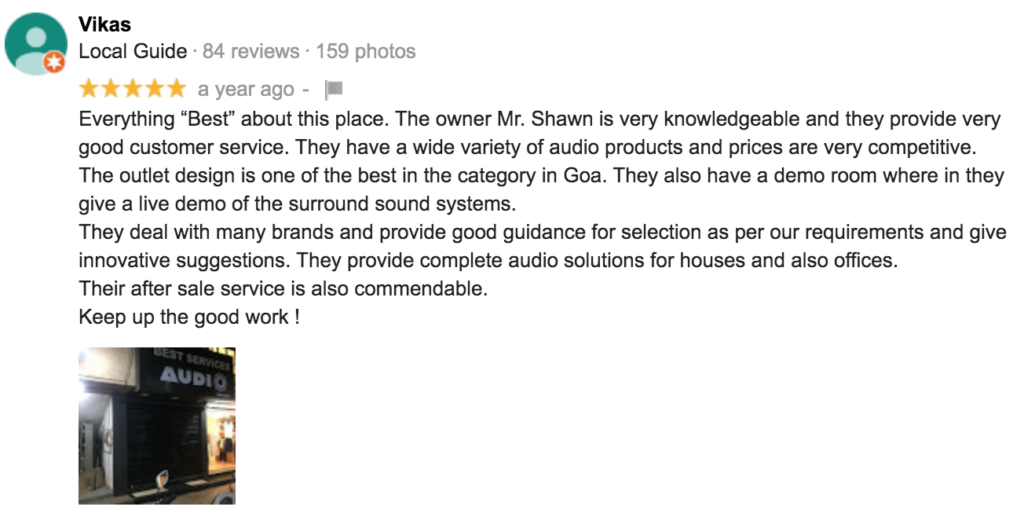 Check out some of our installations / Reach us to see more!